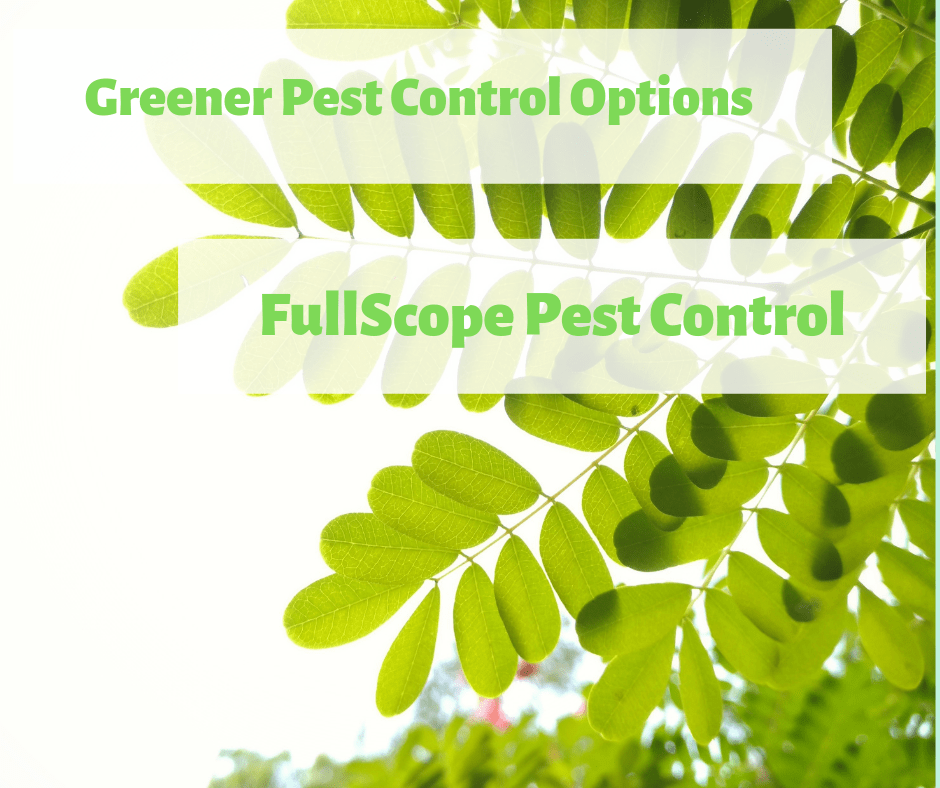 Natural Pest Control Services
There are great options for natural / Green pest control services.  So if you as a homeowner want a more natural, organic approach than FullScope Services can help you discover the best option.
We offer services that would be considered 100% green, low impact and a combination. Because of our extensive pest and product knowledge, we can offer the highest level of success with minimal chemical use.
Taking a More Natural Approach
Ants, centipedes, cockroaches, flies, wasps, bees along with rodents can be controlled and managed with an integrated pest management approach. Using these type of practices, FullScope Pest Control Services, can alter habitat, exclude and eliminate in the most eco friendly manner.
They can act in swarms or individually damaging the property, food, grains and other things which come in their way. And they don't even stop right there, the contamination and other likewise health threats which they pose are also very huge.
Health Risks
Following are a few health risks which are quite common and are caused by the pests in the home and other residential areas;
These pests can cause respiratory and other infectious diseases through contamination of the utensils and food
Other stomach related diseases like nausea, trouble in digestion and abdomen inflammation followed by the severe pain
Allergic reactions
So you can see that there should be no reason to avoid calling a pest control service today. Therefore, the better course of action is to get rid of pests and make your place more secure and impenetrable to these vicious pests, with natural pest control solutions.
Our Services
We are the most sophisticated and balanced pest control company stationed in Kingwood, Texas who can provide any type of pest control services for your home, apartment, garden or commercial area. The season, place and time does not matter, our professionals are equipped with the latest technology and prestigious knowledge which can tackle every kind of pest infestation.
How we work
The very first and foremost strategy is to analyze the behaviour of these natural pests and the habitats which they have occupied for their growth and reproduction. Only then, our experts will be able to develop a brilliant and working strategy against these pests.
And the very next thing is not only to stop their infestation, but also put an end to their life cycle once and for all. Finding the habitat, behaviour, growth pattern and their origin of growth will help to sustain this task.
Rest assured your home will be adequately cleaned and any kind of infestation will be removed appropriately or taken care of.
Our Services
Following is the brief overlay of the services which we provide to our potential customers;
Inspecting the area
Pest Identification
Exclusion / Habitat
Determine Protocol
Investigating the area
When you book a time with our FullScope Pest Control, our experts will be readily available to serve you in all possible ways. We will do a complete inspection, listen to your concerns and determine the best course of action.
Pest control/Protection
Then, after the behaviour and types of the pests have been confirmed we will develop an effective strategy against these pests. The strategy may include the use of certain chemicals or other methods including exclusion and changing the habitat. Using an integrated pest management technique and appropriate green pest control products, we will insure success.
Use of Organic Prowess
Instead of using the conventional pesticides and insecticides, our experts offer a more green or natural chemicals which have the minimum effect over the environment. Use of these different techniques allow us to tackle the situation with a broad insight, while keeping these pests out of your house and keeping natural harmony intact. We use certain Non-chemical solutions to control pests.
We are committed to using the most powerful and highest quality botanically based products which takes care of almost all kinds of pests. You'll not feel even a slight difference in your home environment before and after the treatment while all pests will be gone.
Going Green

Let FullScope Pest Control Services be your natural greener pest control service provider.  We understand that our customers want options and pest control is not a one fit solution. Call for your estimate today and an open, honest discussion with our knowledgeable staff.